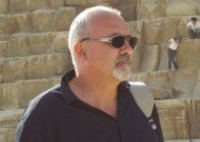 Roberto Sentimenti: a great history… He came from the Sentimenti family, which includes eight professional soccer players. We meet in Bomporto, "wine city" near Modena, taking a seat such everyone do in Emilian land. We talk about architecture and construction industry but also about food, wine and obviously soccer.

Interview with Roberto Sentimenti Surveyor
Q - Roberto, why did you make this choices?
A – My parents preferred secondary school focusing on humanities but I've always been interested in toys like LEGO, so I decided to go to the polytechnic institute in order to become a surveyor. I still thank my parents for their trust in me: they got a sense of my choice and they went along with my wishes.
Q – So, is your professional career a natural continuation of that initial choice?
A – Such every twenty-year-old young man, I got that passion that allow you to pass obstacles. My educational path has always been enough pondered: during the summer holydays I first worked for a plan design company and then for a building firm; only after the Friuli earthquake, where we assembled light prefabricated buildings, I dead set on qualifying examination.
Q – Has the college of architecture been useful?
A – My college approach has been fruitful because it has been a personal choice after the military service and every exam has been passed such a student worker: I have always studied staying up late and supporting myself. The school gave me a cultural research and a body of knowledge that maybe you do not use immediately… But in due time it all come naturally to light, without realizing it.
Q – Let's talk about your passion and profession. How did your impulse start?
A – You have to think about my background: I have grown in this city, in a rural economy during the late Sixties. We have lived like Mark Twain's Tom Sawyer and Huckleberry Finn, with the Panaro river instead of the Mississippi… Young boys entertained themselves building log cabins but I was mostly attracted by these group of people that organized their work better on Sundays and built their residences only in a year. Yes, I consider that my passion started at that time.
Q – Which is the most important quality for a professional of such a setting?
A – Every professional needs to be very experienced: otherwise you do not stand out especially in these days. We don't sell: we offer to every client intellectual work, always different. I'm lucky in order to have chosen a versatile profession that goes from architectural designs to property renovations, from appraised surveys to structural computations, from safety to estate advices. It is necessary to have a natural listening ability for other people's problems and to be able to give advices with strict confidence: for many people, you are like a confessor.
Q – 35 years like a freelance profession: is there a project that has been left undone or unfulfilled?
R – A – I haven't professional regrets, however I sorrow about Bomporto city center revitalization plan: I directed lots of my attentions to it but it has been realized not at all. Indeed it has been modified by Administrations and technicians that succeeded during the years, without account of overview and with awful results that are under the eyes of citizens. In future, I anticipate devoting to building stock revitalization plan; recently I'm interested in analysis about company climate and "problem solving", in order to offer expert advices and global estimates also in extra building field.
Q – Do you still have a childhood dream?
A – I don't have a clear dream… I would like to carry on with my career for years on end. I'm still very curious and innovative, I have still the enthusiasm of the beginning and I dedicate to refresher courses at least one hundred hours at year. I have acquired competences in eco-save buildings, sustainable energies, home automation and topic seismic. I'm also a certified mediator and justice of the peace: I'm ready to new professional challenges.